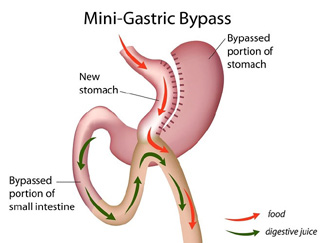 Three important and distinct ways the Mini-Gastric Bypass helps your body to shed pounds.

Restrictive - A Small stomach pouch is created restricting the amount of food you can eat.

Malabsorptive - A portion of the small intestine is bypassed. Since the small intestine is responsible for absorbing the calories from the food you eat, bypassing a portion of the small intestine results in fewer calories being absorbed, thus creating additional weight loss.

Hormonal - The hormone ghrelin has been nicknamed the "Hunger Hormone" by researchers because of its significant effect on appetite. Gastric Bypass results in a fall in ghrelin levels resulting in a reduced appetite.

Surgical Time: 45 mins – 1 hour Approx
Hospitalization: 2 days
Recuperation Time : 4 days

Results
Average of 77% of excess body weight loss one year after surgery.
Studies show that even after 14 years of surgery, patients have maintained 80% of excess body weight loss.
Study of 20000 patients showed that 96% of associated health conditions were improved or resolved, including back pain, sleep apnea, high blood pressure, Type II diabetes and depression.
In most cases patients report an early sense of fullness, combined with a sense of satisfaction, that reduces the desire to excessive eating.
Weight Loss Surgery